I've always been a regular cyclist but it wasn't until my college years did I buy my first road bicycle. I had seen a fixed gear bike somewhere and was drawn to them instantly. They were so clean, simple, and elegant it didn't matter that I didn't need a bicycle, I knew I had to have one. With no prior knowledge of road bikes I inquired my friend Victor, who actually owned and rode them regularly. Shortly after, I acquired an old bike from a young fellow Huntington Beach. It was a 1970s Raleigh Super Course, a beginner's luck find for me. It was basically a frameset with wheels. The chrome on that bike was beautifully glistening under the worn brown paint with patches of oxidation here and there.


After I picked up the bike I decided to keep the paint and leave the bike's history. It gave it character and charm. I bought wheels for it, sugino xd cranks, bottom bracket, bar tape, and a nice suede saddle. It was my first fixed gear bike. An interesting ride with a whole lot of style.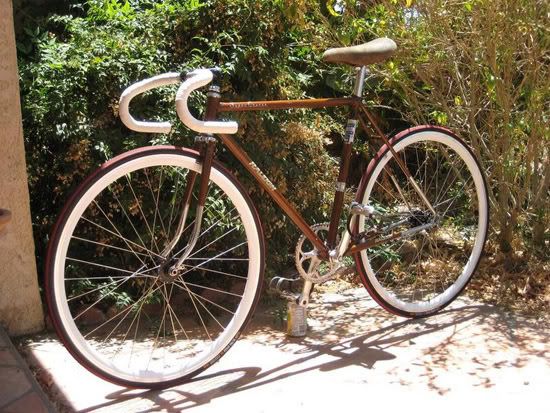 Shortly after the bike was finished I decided that I wanted to spend more and buy a real track bike. At the time all I wanted was a Fuji track pro. Its thick tubes and aerodynamic profile was something that I had to have so I foolishly sold the Raleigh and moved on to what became a huge obsession with bikes. Sometimes I still see these Raleighs on Craig's List being sold. I've tried several times but it seems like its still a hot item and gets sold rather quickly.
If you have it. Contact me!
Du